Pickup lines and opening lines are used by a lot of men today because they are meant to break the ice when meeting someone they find interesting. These lines became popular because they are flirty, clever, smart, and hilariously effective.
But while these lines appear flirty and are used solely to attract interest for the first time, they are generally fun and harmless and don't mean to be pushy.
Pickup lines and openers have been used way back even during the time of our great grandfathers, but as we live in the era of smartphones and digital dating, this has become a very common thing even for the younger generation. Many people enjoy them because they are lighthearted and can relieve tension during the first meeting or conversation.
It's important to note that there is a difference between pickup lines and opening lines. Both may sound flirty and are used to get the attention of your desired person, but they can be used in different ways and can work in different situations. If you're interested in learning more about their differences, keep reading.
What Is a Pick-Up Line?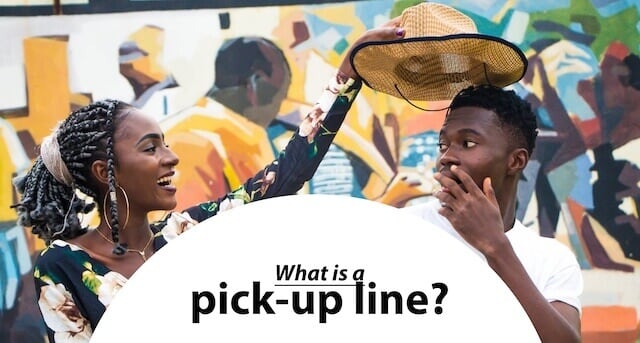 Pickup lines are funny one-liners used to get the interest of another person during a first meeting or conversation. These lines are meant to instantly grab someone's attention and can be used personally on a stranger, an acquaintance you like, or in a chat.
Pickup lines are widely used today in many dating apps like Tinder and Bumble. The better the pickup line, the greater edge you have over others in winning a potential date. For some people, delivering a pickup line comes out naturally. But there are still others who are just starting to navigate using pickup lines.
How to Deliver Good Pick-Up Lines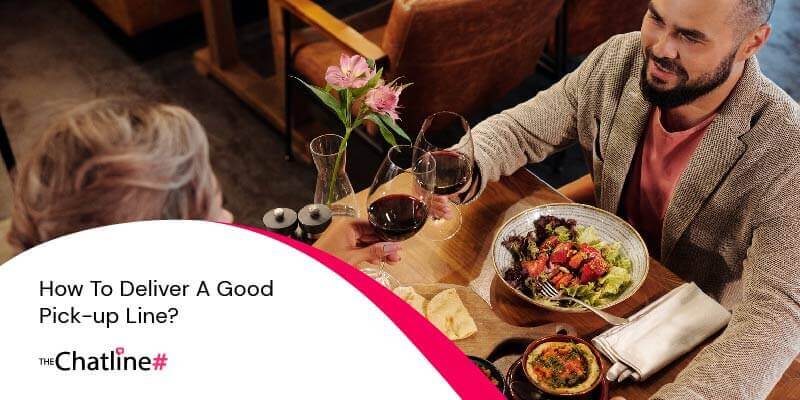 Stay true to yourself. You may have heard a good pickup line in a movie or read it somewhere on social media, but you don't have to say it just for the sake of delivering it. Be true to your persona and find something that fits your looks or personality. Be natural, organic, and smooth.
Be funny. A lot of people, especially women, prefer someone with a good sense of humour. They often find humour more attractive than looks. Try to find a pickup line that will make the person you're interested in laugh to start a good conversation and let it flow naturally.
Learn to respond. Expect an exchange of words and questions as the conversation flows after a pickup line. Respond appropriately to keep the interest up. This can make or break your chance.
Make it relevant. Make sure your pickup line is relevant to the person or the situation. Don't deliver something out of context, as it can make you seem weird or creepy.
Flirt. Use flirty words as a form of flattery. This works most of the time and can help you secure a date. A pick-up line may be cheesy or corny, but if you know how to deliver it in a flirtatious way, it'll certainly work.
Pick-Up Line Examples
Do you have a Band-Aid? 'Cause I scraped my knee falling for you.
If you were a Transformer, you'd be Optimus Fine.
Aside from being sexy, what do you do for a living?
Hey, my name's Microsoft. Can I crash at your place tonight?
Do you believe in love at first sight—or should I walk by again?
Did your license get suspended for driving all these guys crazy.
I'm no photographer, but I picture us together.
Please call me Jack, but you can actually call me anytime.
What Is an Opening Line?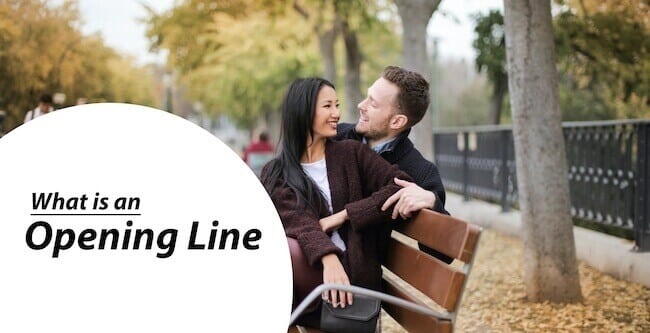 Opening lines are simply conversation starters delivered in a smooth manner. They are not meant to be one-liners or funny like pickup lines, and they even need not be rehearsed. Opening lines often arise naturally.
From a man's perspective, opening lines are a great way to start a conversation. When they spot someone they are interested in, often someone they don't know, they approach them in a simple, non-weird way. On the other hand, women often prefer opening lines to pickup lines, which can come across as cheesy. Smooth talkers are known to be great with opening lines.
In the world of online dating, opening lines can make an excellent first impression. With numerous dating apps available today, when you match with someone you are interested in, you need a good opening line to catch their attention. It can be in the form of a question or a simple introduction. There are no set rules for delivering an opening line. You just have to be confident and know how to keep the conversation flowing.
How to Deliver Good Opening Lines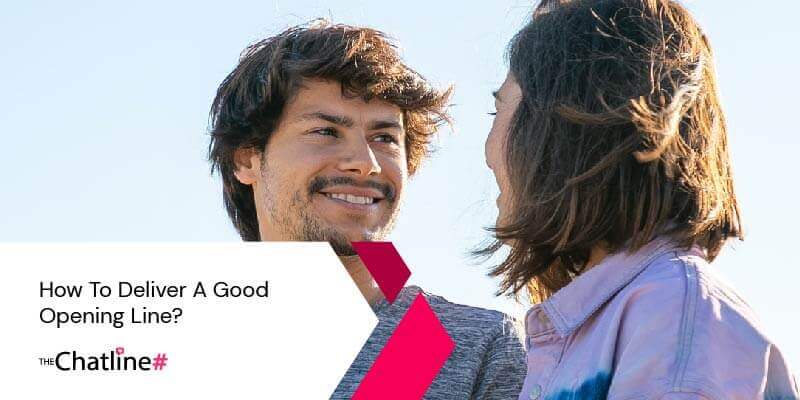 Personalize it. When delivering your opening line, whether in person or online, make sure you give a compliment or say something that is true. Read their profile first, see their interests, check what they are wearing or drinking. Don't just say something because you feel like it. Make sure it is something interesting or relevant to the person.
Be funny. Humor is always a plus point, so if you can deliver something that is funny but not awkward, go for it. You may try to strike up a conversation by asking about a funny sitcom or commenting on quirky behavior that you both notice.
Be confident. Confidence is always the key to a successful interaction. You wouldn't want to approach someone feeling down or awkward because a good conversation would not flow out of it, and they might even find you weird.
Start a conversation. Make sure that when you say an opening line, the person you are interested in will answer back, giving you a good level of engagement so everything flows smoothly. Talk about your interests but don't go into too much detail about every single thing you did as a child or a teenager. Just be natural and talk with relevance.
Be real. Just be yourself. Don't try to be someone you're not just to make them interested. You have your own unique qualities, and you should believe in them. People appreciate authenticity, and it's easy to spot when someone is being genuine. If they feel you are real, then you have a good chance of winning that conversation.
Examples of Face-to-Face Opening Lines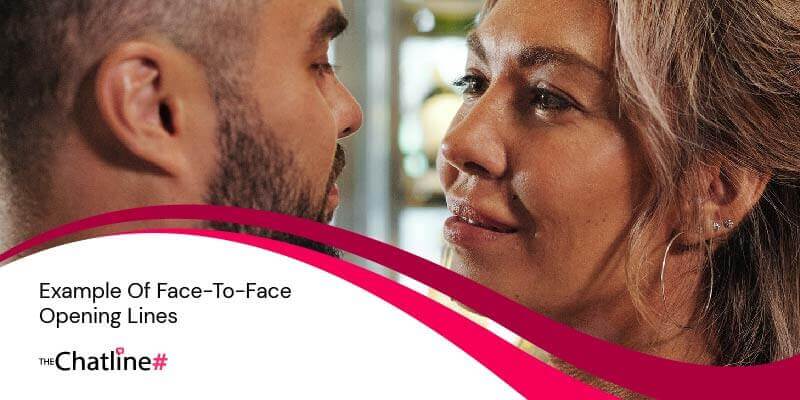 Haven't we met before? You look very familiar?
I know it's weird to ask but I really like your glasses, mind sharing where you got it?
Hello! Do you have suggestions on what do eat or drink here?
Hi! Are you with someone? Can I sit here?
Hi! My name is… do you where I can get a taxi here? You seemed nice and pretty so I went ahead to ask you.
You seem really smart. Can I get your opinion on what to buy for my mom for her birthday?
Examples of Opening Lines to Use on Chat Lines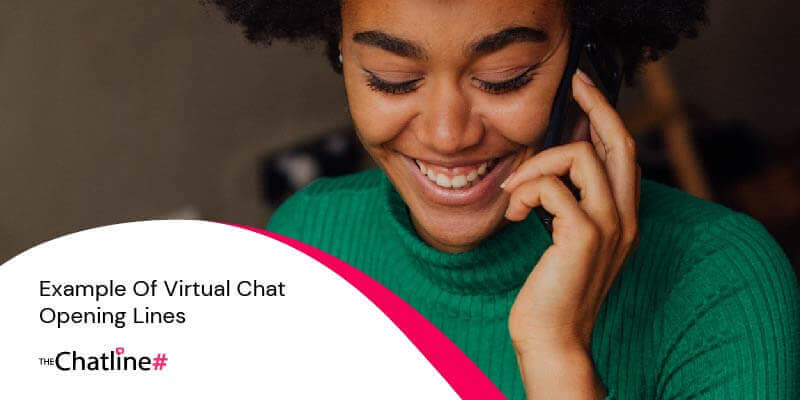 Did you grow up in (name of the place in their profile)?
I noticed you are interested in (check profile) any suggestions for me?
I really think we've met before so I went ahead and send a message. We have, right?
Do you like coffee? We can grab some tonight if you want?
I find the dog in your photo really cute. Can I meet him?

Are you a pick-up line or an opening line type of person? If you feel like you can carry a pick-up line with ease (because let's admit it, not everyone can), then go ahead and use it. People often find it funny, and more often than not, you can strike up a good conversation either in person or online with a pick-up line. Just make sure to have the confidence to deliver it smoothly and with the right timing.
Now, if you're a smooth talker and a good conversation starter, then go ahead and use a smart, attention-grabbing opening line. This is a lower-risk option and can give you more freedom to carry a conversation. Opening lines can be effective ice breakers, and you can talk about your interests, work, and other things.
Remember that not everyone may appreciate your style, and there is no surefire way to get attention and interest using a pick-up line or an opening line. Delivery style also plays a role in success, but it's always good to try and learn.
Was it helpful? Consider sharing the article.