When you have feelings for someone, you often wonder if she is thinking about you too. This is natural, especially if your thoughts are all about her by her. Assuming that the feeling is mutual, the mere thought of this person missing you just as much can make your heart flutter. As human beings, we find joy in knowing that someone misses us. It makes us feel loved and appreciated.
There can be many reasons why you would want her to miss you. Perhaps you need validation of her feelings for you, or you sense that something is off in your relationship. In some cases, you may simply want her to miss you because it makes you feel secure and important.
Whatever your reasons may be for wanting her to miss you, take comfort in knowing that if your presence matters to her, you shouldn't have any trouble making it happen.
What Does It Take to Make Her Miss You?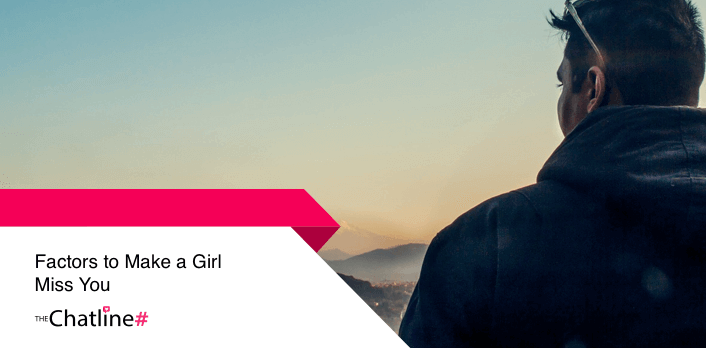 So, what does it take for her to miss you? What can you do to make her yearn for your presence? If you're determined to find ways on how to make her wonder about you, you have to pay attention to three important things: timing, strategy, and boundaries (or space). Let's define the role of each aspect in making her miss you.
1. Timing.
Your timing is important, so be sensitive enough to know when to withdraw your presence. If she wants you to be around, you should be with her by all means. Making her miss you when she needs you the most is not the perfect time to satisfy your desire for drama. So, pay close attention to your timing and be sensitive enough to know exactly when to give her space and when not to.
2. Strategy.
There is a very thin line that separates wanting her to miss you and taking her for granted. So, it's crucial to make sure that you're not giving her the wrong impression. Keep in mind that it's easy for her to misinterpret your actions and conclude that you don't care enough for her. To avoid being seen as undependable, plan your strategies wisely. Remember that the goal is to make her miss you and not send the wrong signal that you're avoiding her.
3. Boundary or Space.
Learn how to set the boundaries.
Give her the appropriate amount of space and time to pursue her interests, and do the same for your own well-being.
Don't be afraid to keep your distance when necessary because feelings can transcend gaps and separation.
Bear in mind that giving each other space to grow and respecting each other's boundaries are essential elements of a successful relationship.
10 Ways to Get Her to Miss You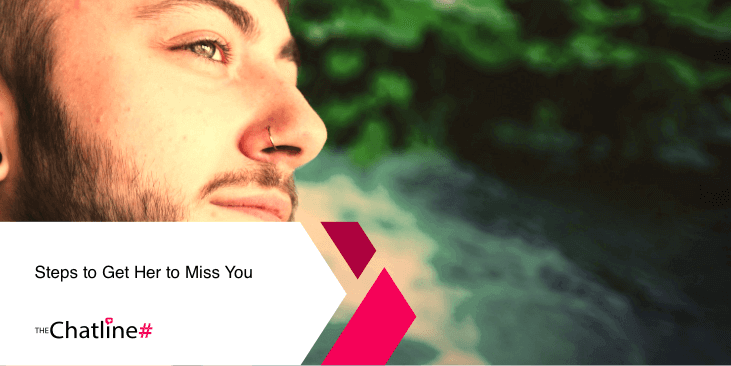 Here are some foolproof tips that can help you execute the perfect plan to make her miss you.
1. Few and Memorable Dates.
The best way to make her miss you whenever you're apart is to make your dates memorable. Make an extra effort by planning something special every time you're together and giving her the best time possible. This could be a trip to a place she loves, a fun activity, or thoughtful gestures that she'll appreciate.
Going the extra mile, surprising her when she least expects it, and making her feel special can keep her thinking about you whenever you're not together. As long as you do things right, she'll crave your presence even more often.
2. Take It Easy on Social Media.
Avoid posting everything on social media, and if possible, take a break from it altogether. Girls are not typically fond of guys who share every detail of their daily lives, thoughts, and routines on social media. This oversharing leaves nothing to the imagination and can make you seem less intriguing.
Taking it easy on social media can make a girl wonder about you more often. The mystery can drive her crazy, and she might even attempt to find out more about you elsewhere online. So, if you're thinking about flexing your muscles or uploading countless selfies, think again. While she may view all your posts, they won't make her miss you since you're addressing the public, not her specifically.
3. Don't Act Needy.
Not all girls enjoy receiving constant calls and texts throughout the day. Of course, every girl is different, but if you want her to miss you, it's best to minimize your frequency of communication. If not texting her for one day seems too drastic and suspicious, send her at least one meaningful message and then stop. This will leave her wondering why you only texted once, even though your last message was so sweet.
Being clingy and always checking on her may seem cute and sweet at first, but eventually, both of you may grow tired of it. To make her miss and crave your attention, give her time to wonder about you. Avoid texting her every waking moment and give each other the space you both need to maintain the spark in your relationship. Just be careful not to trigger any doubts on her part.
4. A Little Mystery Can Go a Long Way.
A hint of mystery can pique her curiosity and make her wonder what you've been up to. By keeping a part of yourself in the shadows, you leave something to her imagination. Revealing everything about yourself can steal away all the excitement and anticipation.
Don't be too eager to share every detail of your life. Keep some things private, such as your past relationships, the reasons for breakups, what you do in your spare time, and your "secret agenda," among other aspects of your life.
Men with a mysterious side tend to draw a lot of attention from girls. It makes them more appealing and thought-provoking because there's so much to learn and discover underneath that exterior. If you can be this kind of guy, you're off to a good start. Once you start spending time with a girl you like, you'll realize that acting a bit mysterious is a clever way to make her think of you more often.
5. Make Her Wonder Why and She'll Start Missing You.
Make her wonder about you by breaking a routine or habit. For example, if you're always the first one to say "hi" to her or greet her in the morning, skip it once. Pretend not to see her or act as if your mind is preoccupied with something you didn't notice. If she's used to your everyday behavior, a sudden change can make her wonder about what's going on with you.
It's natural for people to get used to a certain routine or level of treatment. When things become too predictable, they're often taken for granted without even realizing it. A sudden change or break from this routine can shake things up and leave her thinking.
So, if it's customary for you to text her every morning, send her funny messages daily, or "like" every Facebook post she makes, break the habit and leave her wondering why. If you've had an impact on her, chances are she'll miss what you typically do.
6. Allow Her to See You Having Fun With Others.
Whether you're dealing with an ex or trying to win a girl over, show her that you're capable of having fun. Girls like guys who know how to enjoy themselves in the company of others. This could be through a game of basketball with your friends, a boys' night out, a jam session with your band, or a wild party. Your goal is to prove that you're capable of having fun and enjoying many things with other people.
This is something that most girls find sexy and attractive because it's a sign of confidence and self-sufficiency. It shows that your happiness doesn't depend on a relationship and that you know how to have a fulfilling life. Whether you're trying to get a girl's attention, getting over an ex, or just creating your own diversion, guys who can genuinely have a good time are worth missing and thinking about.
7. Treat Her Well, But Leave Her Wondering Why.
Girls appreciate guys who give them proper compliments and know how to treat them well. Showing your appreciation and gentlemanly ways can go a long way if you want her to think of you more often and miss you.
Make it a point to treat her well, but keep her hanging. This will leave her wondering why you're extra caring towards her and whether or not you have feelings for her.
Your actions could mean a lot of things, but none of them confirm anything in particular. For instance, you may offer to carry her books, drive her home, cheer her up, or open the door for her. These small things can all add up eventually and pique her curiosity.
If you're not around to do these things for her, she'll end up thinking about you – and yes, that includes missing you. So, go ahead and give her a lot of memories to remember you by. Treating her well and being "in the right place at the right time" are the simplest things you can do to make her miss you more.
8. Break the Monotony in Your Relationship.
If you're in a relationship with a girl, breaking the monotony can help make her miss you. Don't settle for a routine. Instead, keep yourselves interested in each other and in other things as well. For example, break the habit of constantly updating each other throughout the day, and don't do the same things all the time. This would give her enough space to wonder about you more often.
There are many ways to break the monotony in your relationship. You can spend certain days doing other things with other people, working on your hobbies, or simply doing what you want. Surprise her every now and then by trying something new.
Being happy together and being happy on your own can make her miss you like crazy because girls like guys who are fun, socially engaged, and self-reliant.
9. Make Your Life More Interesting.
It's important to invest your time in your goals and personal activities to have a more interesting life. Your life shouldn't revolve entirely around her, no matter how strong your feelings are. You should make her an essential part of it – like a source of inspiration.
This perception enables you to live a life that's impressive and rewarding, so you can become a better man. By doing so, she'll desire to become a part of your life and crave your presence.
The more you focus on the things you want to achieve, the more she's going to miss being with you. She'll always look forward to the time you can spend with her, giving you more things to talk about. Making your life more interesting can also give you a sense of security in your relationship, and it's a healthy way to build your self-esteem.
10. Few and Thoughtful Text Messages.
Think about quality over quantity at all times. It's not just about the number of calls and text messages that you send her, but the quality of one single message that matters. Texting her constantly leaves her with nothing to wonder about, and chances are you won't be able to sustain this for very long.
If you want her to genuinely miss you and crave your presence, simply send her one sweet message that says it all. It's like a teaser that summarizes everything you feel in a brief note. Here are some examples:
I'm at work right now, having a busy day. I miss you, and I wish you were here.
I passed by the restaurant where we had our first date, and I thought of you. Looking forward to the next time we can spend a moment together.
Hey, I just want you to know that I'm thinking of you. Hope you're having a good day. Let's spend time together again soon, okay?
On a final note, sometimes we all need to do something to demonstrate that life is happier when we are around and contribute many wonderful things to the table. The sad truth is that once we become overly predictable, that's when things get dull and unexciting, regardless of how amazing our personality may be. So, learn to play your cards well to keep her wanting your presence.
The trick is to keep the surprises and twists coming. Change your approach constantly – be dependable yet mysterious, sweet but unyielding, affectionate yet independent. And lastly, live a life that's so purposeful and fulfilling that she'd want to become a part of it. As long as you're able to maintain an interesting aspect of yourself, she'll continue to miss you.
Was it helpful? Consider sharing the article.