Imagine yourself in a social event or party where everyone seems to be having a nice conversation with someone. As you approach the bar to get something to drink, you find yourself standing next to another person you don't know. This person is obviously all alone, just like you. You are certain that you want to talk, but you don't have the slightest idea what to say.
Yes, we have all been there before – in one way or another. We know how awkward it feels to stand there as we battle with our nerves whether to talk or not. Unfortunately, the awkward silence can be quite embarrassing and very uncomfortable.
In the end, your lack of initiative can potentially give rise to a bad impression or even a misunderstanding.
This is exactly what makes small talks fundamental and relevant.
There will always be some instances wherein you'll need to initiate an informal conversation with another person to express courtesy. Small talks are not just polite gestures.
They are also friendly actions that acknowledge a person. It could be as simple as saying "hi", or a bit more spontaneous as exchanging a couple of statements before parting ways.
If by any chance you want to learn the art of small talks, and you want to come up with clever ideas on how to initiate one, you can refer to this ultimate guide on small talking at any time.
Keep in mind that it takes more than just courage and self-confidence to talk to random people. Your sheer sincerity, politeness, and charm are contributing factors that can spell your success when initiating small talk.
What Is a Small Talk?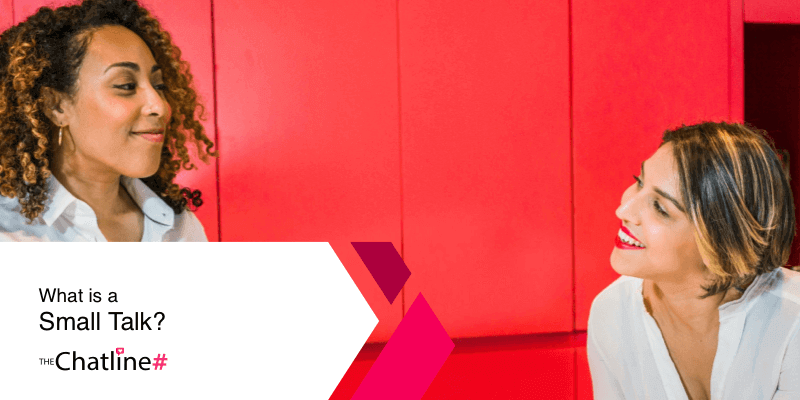 Small talk is a type of informal conversation between individuals who don't want to engage in deep and complex topics. The term "small talk" generally refers to short and mindless conversations that fill up awkward silences. These are the momentary chats that we share with random people and the spontaneous exchange of words that happen in most chance encounters.
In its simplest sense, small talk is a polite conversation between individuals that involves uncontroversial topics or miscellaneous things and "not worth bothering about". For this reason, most people refer to small talks as supplementary and non-essential chats that do not dwell on any functional topic. They can either be customary, impulsive, or serendipitous.
In social gatherings and public places, small talks are usually initiated to feel comfortable next to a stranger or another person or deliver a friendly gesture. A small talk that goes out pretty well can fill the gap between a nervous "hello" and an amusing conversation. Therefore, it can serve as an introduction to a pleasant chat.
One of the most typical examples is; dropping a funny line or a clever question to grab someone's attention at the bar. Other examples are; saying "hi" to the person sitting next to you on the train, mentioning something about the weather to your favorite barista, and complementing your neighbor's garden as you pass by.
The universal characteristic of small talks is that they have nothing to do with specific transactions, and they can last only for a brief moment. In any case, you find yourself talking informally to another person, break the silence or as an act of courtesy, consider it as a form of small talking.
Why Small Talk Is Important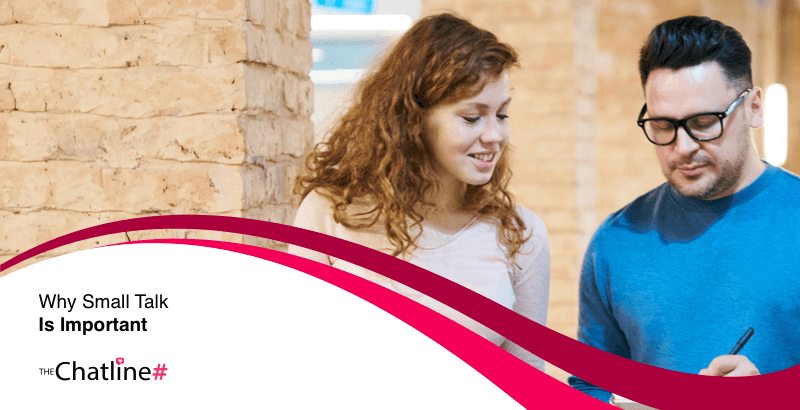 Small talk is important because it is a sign of courtesy and regard towards another person, whether it's a stranger or someone you know. It is also one way of acknowledging the people around you. Wouldn't it be quite rude to pass by familiar people every single day without even acknowledging their everyday presence?
Just the same, it's quite awkward to ignore someone who's standing right next to you at a party, especially if this person is quite familiar and is waiting for you to make the first move to say "hi". Furthermore, pretending that the people around you don't exist is not a healthy attitude. Others can easily get the impression that you are exhibiting anti-social behavior or lack of interest in making new friends and acquaintances. Hence, you're distancing yourself by ignoring everyone.
It is for these reasons that small talks are important in our everyday lives. Regardless of how trivial they are, small talks create multiple opportunities for new connections to develop. They can bridge the gap between awkwardness and understanding between people.
Whether it's greeting that person who delivers your newspaper every morning or saying "how are you?" to the guy who opens your office door every single day, such swift encounters can bring a smile to people's faces and make them feel important.
Examples of Small Talks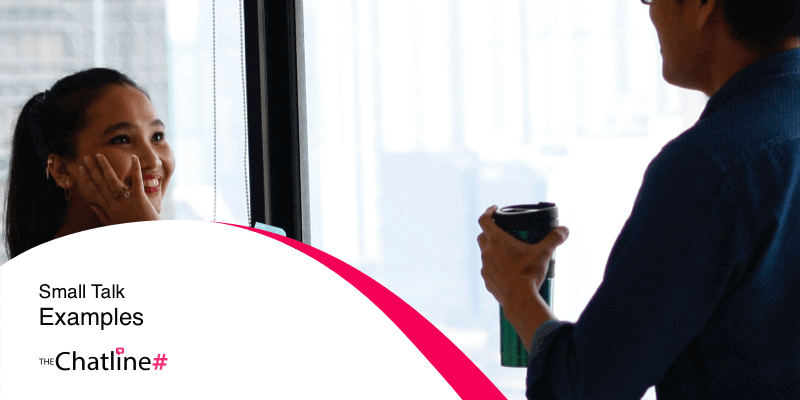 Small talks are part of our everyday lives. You don't have to be an excellent conversationalist to acknowledge other people. In fact, small talks are meant to be laid back and relaxed enough to start and end swiftly.
However, there are some instances wherein small talks can essentially lead to a friendly chat. It could happen on a case-to-case basis and depends on several factors such as timing, situation, impact, and chemistry.
Let's explore the following examples of small talks to understand how it works and its relevance in enabling people to establish rapport and positive connections;
1. Spontaneous Small Talks.
Spontaneous small talks are standard everyday lines that we often say to random people that we meet along the way. They can either be in the form of a greeting or a general statement. Such small talks happen in a spur-of-the-moment, such as saying, "excuse me, is this seat taken?", "hi, nice weather, isn't it?", "good morning, how's it going?", "Great party, huh?", or "it was nice seeing you today, but I have to run for work".
These examples of small talks are usually hasty and have no structures. We initiate them to express our consideration towards others and to practice good manners. To some, dropping some informal lines is a way to initiate a brief conversation.
Spontaneous small talks could happen in public places, workplaces, public transport, and social events, among many others. They can also happen between strangers, people familiar with each other, and even to those who know each other pretty well.
2. Casual Small Talks.
Casual small talks are generally communication starters or loose introductions. They can either transpire into a real conversation or promptly end after a few exchanges of lines. These types of small talks usually happen at parties, social gatherings, and even in random places.
A person would typically drop a few lines to initiate the communication, and how far it will go depends entirely on how the other person would respond to the initiative.
The most typical example of a casual small talk is when you're trying to get someone's attention or making an attempt to introduce yourself to a person of interest. It could be greeting your crush and giving her a subtle compliment, approaching an attractive woman at a party to introduce yourself, or saying "hi" to a potential client as a segue to give your business card.
Casual small talks are meant to be spontaneous, light, and natural. Therefore, there is no need to open up any topic for discussion since your objective is mainly to warm up to that person.
3. Courteous Small Talks.
Courteous small talks are polite gestures that are meant to make people smile. They can either be in the form of a compliment, gracious remark, or friendly question. There is no specific goal for initiating such small talk, other than recognizing people and making them feel that they are not invisible to you.
Some basic examples are; patting a stranger's dog and asking for its name, complementing another person's new car, inquiring how your neighbor maintains their beautiful garden, and offering to help someone carry their huge bags of groceries.
Courteous small talks are informal yet respectful. They are meant to bring a smile to people's faces or to uplift their mood by simply giving them a bit of your time and attention.
4. Flirtatious Small Talks.
Small talks may be unimportant and invisible, but they are the perfect excuse to flirt with someone or to grab a few seconds of their attention. Flirtatious small talks could be as fleeting as saying "hello", "I'm so glad to run into you", and "nice to see you here".
However, delivering these short lines with all the charm you can manage can add more meaning to them. Sometimes, one word is all it takes to make that one person you like to notice you.
Some scenarios that can put a flirtatious small talk into good use is when you unintentionally run into your crush in the hallway, getting on the elevator with a cute guy, and seeing your hot gym buddy at the club.
Small talks are not just modest excuses to grab a bit of attention from that person you like but also allow you to weigh your chances and to determine if there's a possibility for bigger things.
5. Motivational Small Talks.
A motivational small talk is a brief "pat on the back" you offer to a person who's anxious or worried about something. Reassuring words like "you can do it", "good luck", and "don't worry too much", are all basic examples.
Often, the small talks that we share with random people we meet along the way become a part of our regular routine. Whether these are familiar or unfamiliar people, saying nice words that enable them to look at the positive side of things can make a difference in their day.
Here are some examples; wishing your colleague good luck on his presentation, telling your sibling to "break a leg" before his job interview, and saying "things will work out fine" to a person you see on your daily commute.
It doesn't matter how you say it or how swiftly it goes. Expressing how much you're "keeping your fingers crossed" and "hoping for the best" for another person is a casual way of delivering a motivational small talk.
Topics for Small Talks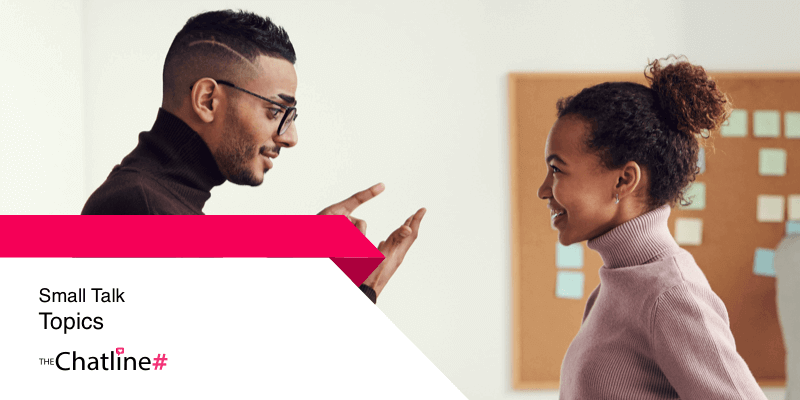 Small talks are generally abrupt yet sociable in nature. Since they can be unpretentious conversations that happen nonchalantly every day, you are free to talk about anything under the sun.
The only thing to keep in mind when initiating a small talk is to keep things light, pleasant, and undemanding. In this sense, you need to stick to trivial topics that are non-offensive and decent.
Here are the most common examples of small talk topics;
1. Weather.
It may be cliché but commenting about the weather is the most classic and polite way to initiate small talk. Acknowledging a familiar face as you say; "such fine weather, isn't it" or "it's quite dark and cloudy, it might rain today" are good ways to initiate a small talk without being pushy or disrespectful.
2. Complementing the Obvious.
Making comments on a positive note and complementing the obvious are clever ways to initiate a small talk. You can mention how great the party is, how refreshing the view is, how brilliant the ideas are, or how successful the event is. Anything that pertains to the situation you are in and is pretty much obvious is a good way to launch a small talk with someone you know or a complete stranger.
3. Trivial Question.
Asking a significant or meaningless question could be a good way to get someone's attention and initiate a small talk. Questions such as "are you alone or you are alone?", "Merlot, pinot noir, or cabernet sauvignon?" or "are you a Facebook-type of person or an Instagram-type?" Any question that has no right or wrong answer is a sensible way to talk informally, and could open the path to a small talk.
4. Time.
Time is a good topic for small talks. You can casually state that the bus is running a bit late than usual or that you overslept and missed the train. Other topics that pertain to time are the rush hour, daily commute, bus schedule, waiting time, and your average travel time daily. This is a topic that a lot of people can relate to in a lot of ways.
5. Current Events.
The daily news and current events are typical topics for small talks. These could be about politics, sports, "who's dating who", and upcoming social events. It is very typical for people to talk about the latest news and dig into the juicy details, whether at work or elsewhere. Even strangers can have small talks about these topics in beauty salons, barbershops, nail spas, and other public places.
6. Places and Directions.
Inquiring about the best shops, cafes, and restaurants in town and asking for directions on how to get there are good topics for a small talk. Whether you're new in town or you simply want to engage in a small talk, talking about places and directions is a practical way to socialize and interact casually. You also get the bonus of potentially making new acquaintances.
Conclusion
Small talks are shallow conversations that happen unwittingly or by a "happy chance". The more you practice the art of small talking with random people, the easier it gets. Engaging in small talks is a healthy way to improve your communication skills, confidence, and social graces.
It is also one of the best ways to extend a kind gesture to strangers and familiar faces that you cross paths with every day.
Lastly, small talks can significantly improve your character. As long as you're able to do it right, it could be one of the most effective ways to leave a good and long-lasting impression. After all, it doesn't take a lot of effort to smile and say "good morning" to a person you come face-to-face with at work or on your daily commute.
A kind gesture and small talk can significantly brighten up one's day and make a huge difference, even without you knowing it.
Ready for a real
Chat Line Experience

844 797-7569

GuySPY Voice
60 Mins Free
855 351-8665

RedHot Dateline
60 Mins Free
888 674-8069
Real singles waiting to
Talk With You.