Have you recently experienced a breakup with the girl of your dreams? Or, did you end things with someone only to realize that you've made a mistake and want her back?
Don't panic. Winning a girl back takes time and patience. Today, we'll provide you with a few strategies for turning your situation around and getting the girl back.
Understanding the Breakup Decision
Before you can win her back, it's important to understand why the relationship ended in the first place. This will allow you to identify what went wrong and how you can improve yourself to ensure the relationship works the second time around.
Who broke up with who?
Firstly, you need to consider who ended the relationship in the first place. Did you end it with her? If so, it's important to reflect on why you made that decision. Were there issues with her personality, or did you feel that there was no longer a reason to continue the relationship? It's essential to ask yourself the tough questions to determine if you truly want to pursue the relationship once again.
If she ended it, why did she do so?
If she was the one who ended the relationship, take a closer look at why she made that decision. Try to understand her perspective and consider what she said were the reasons for ending the relationship. Additionally, seek feedback from your friends on why they think the relationship didn't work out.
Remember, you cannot win her back unless you are willing to make changes to keep her happy. If you cannot make her happy, she won't want to come back to you. Take a moment to reflect on your actions and identify areas where you can improve to change the next time around.
Did you show enough affection?
Women appreciate when a man expresses affection to her in a romantic way and not just through sexual advances. It's essential to avoid making her feel objectified or devalued. Instead, you want to make her feel loved, cared for, and respected. If you were not showing her enough affection, this could be a reason why she lost interest in the relationship.
If you want to win her back, this is an area to work on for the future. Make an effort to show her physically that you care about her and value her, beyond what your words can express.
Did you address her concerns?
When a girl is unhappy in a relationship, she will typically express her feelings and identify areas where she is not satisfied. She may request that you make changes that can improve the relationship and make it stronger. It's important to consider if you have fulfilled her requests within reason. By demonstrating a willingness to change, you show that you're committed to growing the relationship.
However, it's crucial not to change everything about yourself. You don't want to lose your identity to fit a mold that someone else wants. There's a limit to what you should change.
7 Steps to Win Her Back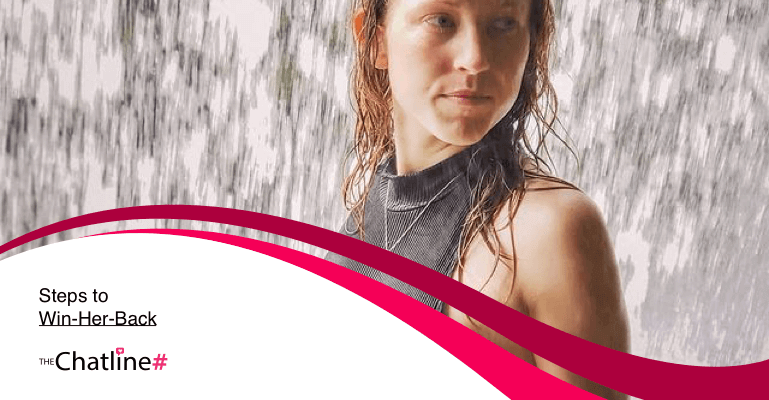 Now that you have a better understanding of why the relationship ended, you can determine which of the following steps will help you win her back.
1. Apologize and take accountability ended.
A woman respects someone who takes accountability for their actions and apologizes for any wrongdoing. By sincerely apologizing for past mistakes, you can demonstrate to her that you're taking responsibility for your actions and are committed to winning back her trust.
It's crucial to make your apology sound genuine and not forced. Acknowledge the situations that you know upset her, and express your remorse. Let her know that even if she chooses not to take you back, you still want to be a gentleman and apologize for your actions.
2. Be open and honest with her.
Sometimes, a woman may end a relationship because she doesn't feel an emotional connection with you. It's important to be open and honest with her. Express how you feel and why you want her back. Let her know how much she means to you and what qualities you respect and miss the most about her.
Avoid bringing up sex, as it may make her feel like all you want is something physical. Instead, let her know how she makes you feel, such as feeling good about yourself when she's around. The more honest you are with her, the better your chances of winning her back.
3. Give her space.
A helpful way to win her back is to make her desire you again. Give her some space, as the saying goes, 'distance makes the heart grow fonder.' By giving her some space, she'll miss you more, and she may realize that she made a mistake and wants you back.
However, it's important to avoid giving her too much space. If you leave her alone for too long, she may get accustomed to not having you around and move on with someone else.
4. Figure out ways to make her laugh.
Few things are more attractive to a woman than a man who can make her laugh. Life can be stressful, and being with someone who can make you smile and laugh after a tough day is invaluable.
Find out what makes her laugh and make an effort to incorporate those things into your interactions with her. Share jokes with her, bring her a copy of her favorite comedy movie, or take her to see a comedy show. These small gestures can make her laugh and show her a good time, which could potentially win her back into your arms.
5. Get to know each other again.
Putting effort into your emotional connection with your partner can create one of the strongest bonds in a relationship. To win her back, you may need to start from the beginning. Relationships are challenging, and it's possible that you lost your way because you no longer knew each other well enough.
Take the time to get to know the love of your life again. Start dating again, and focus on getting to know each other. Share secrets, learn about her likes and dislikes, and determine what she wants in a relationship.
Remember the small details that she tells you so that you can do the little things that will make her smile and reignite her love for you.
6. Remind her why you started dating in the first place.
Remember, your relationship wasn't always bad. Before the problems began, you both had good times together. Remind her of why you both started dating in the first place. Consider taking her to the place where you had your first kiss, first date, and other memorable locations. These settings can trigger happy memories and help her reminisce.
By reminding her of the positive experiences you shared, you can reignite her feelings for you.
When you're back in her good graces, you'll have a better chance of winning her back.
7. Give her a thoughtful gift.
Every woman loves to be spoiled and feel like a queen, but repetitive gifts may become less meaningful over time. Sometimes, a small, personalized gift can mean more than a grand gesture. For example, a customized item or a gift related to her favorite movie can show how much you care.
Consider getting a coffee mug with a picture of you both on it or buying her the perfume she wore on your first date. These thoughtful gifts show that you're attentive to her wants and needs and that you're putting effort into the relationship. Your gifts will demonstrate that you love and appreciate her and want to make her feel special.
Now that you have a plan and the knowledge of how to win her back, it's time to put those steps into action and work on maintaining the relationship. Here are a few things to keep in mind to ensure that you both don't end up back in a bad place:
Remind yourself of why the relationship ended in the first place and make an effort not to repeat those mistakes.
Remember to relax! Don't walk on eggshells around her. If you show that you're putting in effort, that's what really matters. Understand that both of you will make mistakes again in the future. Keep your lines of communication open, and your relationship will flourish.
Was it helpful? Consider sharing the article.