If you're going on a date with someone special, it's important to know the hottest and trendiest date spots in your area. Whether you're trying to make an impression or simply want to try something new together, being a person who never runs out of date ideas can go a long way. Luckily, you can find countless clever ideas on how to plan a memorable date with your partner.
Checklist to Prepare for a Date
Let's start by taking a quick look at this checklist on how to prepare for a date. It's important to remember that no matter how special your plans are or how spectacular the location of your date is, everything can easily go downhill without the necessary preparations. To have a dreamy date with that someone special, take note of the following:
1. Research your date's interests.
Get to know the things that capture her attention. Does she love the outdoors? Is she fascinated with food and international cuisine? Perhaps she's into arts, music, or entertainment? Knowing her interests can help you plan a date that she'll definitely love, appreciate, and remember.
2. Plan your outfit.
Plan your outfit according to the theme of your date, and make sure to inform your date about it. If you're going to a fine dining restaurant, suggest that your date wears something nice and formal. If you're going out for a picnic, you'll want to wear something casual and comfortable. Wearing suitable clothes can significantly contribute to the quality, comfort, and outcome of your date.
3. Make an effort to look good.
Whatever plans you have in mind, always make an effort to look your best every time you go out on a date. Looking good isn't just an act of self-care, but it's also a way of making your date feel extra special. A guy who is clean, presentable, and well-groomed is someone that every girl would be proud to be with.
4. Prepare yourself mentally.
Going out on a date should be enjoyable and exciting for both you and your date. To achieve this vibe, it's important to prepare yourself mentally by being calm and relaxed. You should also exude a positive attitude to set the tone for the date. Your goal is to make your date feel that it will be a wonderful time together as soon as she sees and feels your energy.
5. Be on time.
The timing of a date sets the foundation for a good experience. While women may arrive late on certain occasions, they hate having to wait for their guy. If you want to have a good head-start with your date, be on time. Leave the dramatic entrances to women and never attempt to have one. Part of being a gentleman is waiting patiently for your date to arrive or be ready.
Best 17 Places to Go for a Date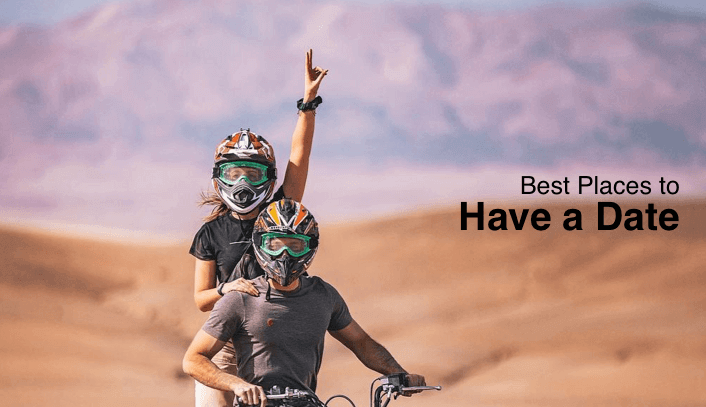 There's a world of interesting places and exciting new activities for couples to explore. Whether it's your first date or your fifth, you deserve to have a superb time together. Here are some of the best places to have a date with your significant other and some different dating ideas that guarantee an awesome experience.
1. Nearby places neither of you have been to.
Are there any places in your area that you and your date haven't visited yet? If so, why not be tourists for a day? Create a list of places that you haven't had the time or inclination to see, such as:
Museums.
State parks.
Zoos.
Recreation centers.
Stadiums.
Water parks.
Cultural theaters.
Plan an itinerary that allows you to visit as many places as possible, and after a day of exploring, dine in a local restaurant you haven't tried before.
2. Visit a romantic sunset spot together.
Watching the sunset together is one of life's most romantic experiences. There's nothing quite like sitting beside the one you love as you watch the sun go down. Find a place that offers a breathtaking view of the sunset or drive off to a picturesque spot to make the date even more special and memorable for both of you.
3. Walk along the beach.
There's something magical about seeing a couple walking hand-in-hand along the beach. The simplicity of the moment allows us to appreciate the beauty of life and the joy of having someone to share it with. The gentle crashing of waves, cool wind, and beautiful view of the ocean are often portrayed in romantic movies and love stories. Why not recreate this moment and experience it for yourself? As the old saying goes, the best things in life are free.
4. Go for an early morning bike ride.
Ride a biking trail together and enjoy the amazing outdoors at sunrise. Find a breathtaking path where you can spend a beautiful morning riding your bikes. Bring some healthy snacks and a tumbler of warm coffee to share while basking in the morning sunshine. Morning sun is actually good for your overall health and wellness, and it's worth sharing with the one you love. Who said morning dates can't be fun?
5. Plan a picnic date.
Drive to a picture-perfect location for a picnic. Some great options include:
Lakeside gardens.
Eco-parks.
Urban parks.
Any place with a waterfront view.
Bring all the picnic essentials you need, such as a large mat, snacks, sandwiches, fruits, drinks, and napkins. You may also bring a portable Bluetooth speaker to play music or board/card games to add an interesting twist to your date.
A thoughtfully planned picnic date can be far more memorable than a glamorous candlelit dinner for two.
6. Have an outdoor adventure.
If you and your date are athletic and outdoorsy, you can try out some extreme outdoor adventures. Some great examples are:
Extreme outdoor adventures:
Bungee jumping.
Ziplining.
Trekking.
Abseiling (rappelling).
Water sports and adventures:
Free diving.
Scuba diving.
Wakeboarding.
Water skiing.
Find a common interest and plan the activity together. This is an encouraging way to try out something new and discover various thrilling activities that you can share later on.
7. Visit a food park.
Food parks offer a unique gastronomic experience and a great way to explore a variety of foods, drinks, and crowds. If you and your date share a fondness for all sorts of food, from burgers to tacos to interesting versions of comforting meals, a trip to the food park would be worth the calories.
8. Attend an interesting class together.
A remarkable date isn't all about intimate dinners, champagne, and roses. Sharing a learning experience together is just as special, like attending an interesting class. For example, you may sign up for:
A dance class
A crash course in pottery
Painting class
Cocktail mixology class
Fitness classes such as yoga, spinning, and Pilates
Feel free to explore different options that you both can enjoy. Attending a class together is an excellent way to strengthen your bond, hone your talents, and discover new interests.
9. Participate in a charitable program in your neighborhood.
Do something relevant and worthwhile by volunteering in charity drives and fundraising events. Coordinate with your local community to inquire how you can participate in various charitable programs. Some of the most common activities you can expect are:
Packing goods for distribution.
Visiting local shelters to bring donated goods.
Organizing community pantries.
Regular feeding programs.
You may also join community events such as local clean-up drives and rehabilitation of public spaces. Doing something socially relevant can help you develop empathy and compassion for others.
10. Revisit memorable places.
Rekindle precious memories and important milestones in your relationship by visiting memorable places together. It could be the place where you first met, had your first date, shared your first kiss, and other spots that have special meaning to both of you. Walking down memory lane can bring back the spark in your relationship and help you remember all the good things you've shared together as a couple.
11. Watch a live game in a sports stadium.
Now that things are gradually going back to normal following the effects of the Covid-19 pandemic, it's time to catch up on all the things you've missed during the lockdown. With all the necessary precautions in mind, you and your significant other can watch a live game in a sports stadium.
Experiencing the simple joys in life all over again and sharing these moments with someone special is something that you can look forward to after more than a year of fear and uncertainty.
12. Enjoy a drive-in movie date.
Plan a date the old-fashioned way by going to a drive-in movie. There's always something romantic and intimate about watching a movie in a drive-in where you can kiss, cuddle, and make out like a teenage couple.
13. Spend a day at the amusement park.
Bring back the child in you by spending an entire day at an amusement park. Hop onto rollercoasters, try out heart-pumping rides that make you scream, enjoy the view on top of the Ferris wheel, and join the kids on the carousel. Don't forget to grab some corndogs, ice cream bars, and cotton candy to fuel your energy.
14. Go bar-hopping.
Paint the town red and dance the night away by trying out the hottest and hippest clubs. Enjoy a variety of cocktail mixes and join the crowd on the dance floor with your date. Going on a bar-hopping spree is a fun way to kick back, loosen up, and unleash the party animal in you. So dress up, put on those dancing shoes, and get into the groove for a whole night of partying.
15. Play arcade games together.
Compete against each other over arcade games and have a good laugh together. Make sure that you and your date can handle a little bit of competition because things can get intense while playing. Try out new and old games to see how you fare against each other and win as many tickets as you can to take home a prize.
16. Dine at a fancy restaurant.
Impress your date by making a dinner reservation in a fancy restaurant. This is an excellent choice if you're celebrating a special occasion or an important milestone in your relationship. Dining in a fancy restaurant is also an opportunity for you to dress up, enjoy a glass of fine wine with your date, and act like a perfect gentleman. A romantic dinner date never gets old when it comes to making an impression.
17. Visit and dine at a pet cafe.
If your date is particularly fond of pets, find a pet café near you and enjoy a casual meal with some furry friends. Pet cafes are trending hang-out places for those who want to dine with their pets. Aside from being pet-friendly, pet cafes also serve delightful treats for pets and have amenities where they can play and lounge.
Things to Consider When Going Out on a Date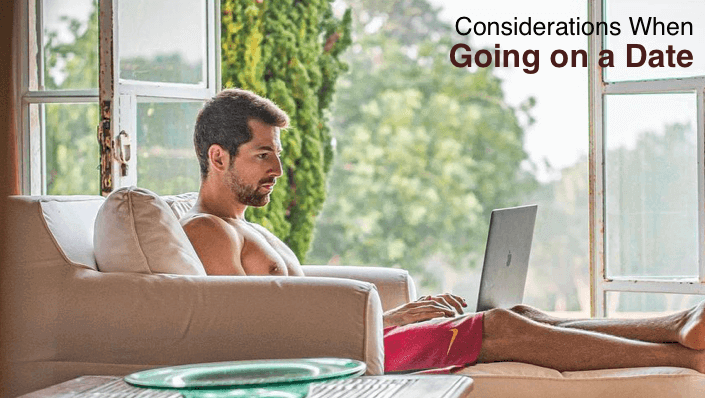 Planning the perfect date requires careful consideration. Aside from having a good place in mind, it's just as important to figure out what your date likes. Knowing her interests and personality can give you hints on the activities and places she'll enjoy the most.
There are also several factors that require your attention to ensure that your date runs smoothly and goes according to plan. Here are the most important things to consider when going out on a date:
1. Plan a date that both of you would enjoy.
An enjoyable date is something that both of you can appreciate. Whether it's visiting a place of common interest or participating in an activity you both enjoy, the key to a truly amazing date is the overall experience and the pleasure of good company. This can only be achieved if you both like the location you choose.
2. Set a budget for your date.
When planning a date, it's important to consider your budget. You don't have to break the bank to have a memorable time. What really matters is the chemistry between you and your date. Spending a lot of money doesn't necessarily mean you'll win her heart. In fact, simple yet thoughtful date ideas can create a bigger impact than extravagant ones. So, focus on creating a special experience rather than spending a lot of money.
3. Timing and weather.
Plan your date and activities accordingly. Check the weather to see if it's a good day for an outdoor adventure. Nobody wants to be rained on in the middle of a picnic, in the same way, that it's a bad idea to go trekking when the weather doesn't call for it. So check your timing and the weather to make sure that what you have in mind is feasible.
4. Research the best dating spots.
If you're trying to impress your date, do some research and discover the best dating spots in town. Good dating spot are:
A theme park.
A romantic restaurant with an overlooking view of the city.
A trendy café.
A popular tourist attraction.
Knowing the most romantic places in your area can help you plan your dream date with your dream girl.
5. Be mindful of the bad places for a date.
There are some places that are not suitable for dates. Examples include:
Your friend's house.
Your parent's house.
Places where you hang out with your friends.
Clubs that have a bad crowd.
Party hubs that offer poor security.
Additionally, any place where your date might feel uncomfortable and unsafe is not advisable; and, therefore, should be out of your dating list.
Was it helpful? Consider sharing the article.