We know how disappointing and hurtful it is to be blocked by someone on the phone, on social media, and everywhere else. The mere thought of getting blocked by someone is similar to facing rejection. It's as if this person doesn't want anything to do with you anymore and has decided to shut you out. What makes it even worse is if you were blocked by someone who means something to you, like a close friend, a girl you like, or an ex-girlfriend.
How would you know if someone blocked you on their phone, social media, dating app, or instant messaging app? What can you do to confirm your suspicion?
If you're dealing with this dilemma right now, try to perform simple tests and procedures that could lead you to a definite answer. Be aware that some people tend to block their contacts temporarily due to several reasons, while others deactivate their accounts entirely, which explains why you're unable to get in touch with them.
In this sense, there is no reason for you to take it personally right away because there could be a rational explanation for why such things happen.
For your awareness, here are different ways to find out if she blocked you.
How to Know if She Blocked Your Phone Number By Calling Her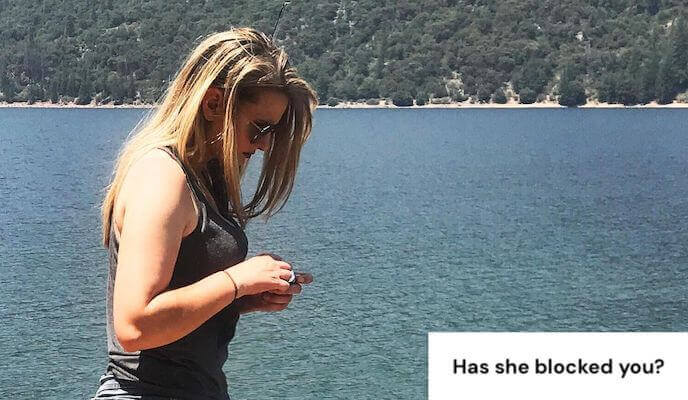 The easiest way to figure out if she blocked your phone number is by calling her. If your call goes straight to voicemail all the time, there is a huge possibility that your phone number is blocked. Furthermore, if you repeatedly hear an automated voice recording that says, "the person you are calling is not available", "the number you have dialed is out of coverage area", or "this call cannot be completed", your number has been blocked.
Depending on your network, you may also hear a busy tone whenever you attempt to call her number or a series of beeps, which indicate failure to connect. Needless to say, if you are unable to connect to her phone number recurrently and for unknown reasons, she may have blocked you.
To confirm your suspicion, try calling her using a different phone number to figure out if the call would get through normally. Alternatively, you may borrow a friend's phone to call her and see how it goes. If there is nothing unusual when you call her number from another phone, it makes sense to conclude that she blocked your phone number; and this prevents you from reaching her.
How to Know if She Blocked Your Phone Number By Texting Her
If you're both using iPhones, try sending her a text via iMessage. When you send an iMessage to another iPhone user, you can readily confirm if your message was successfully sent through the "Delivered" status notification right at the bottom of your text. However, if the person you are texting has blocked your number, you won't be able to see the status of your text, or the "Delivered" status will no longer be there.
If you're using an Android device, there is no way of figuring out via text message whether she has blocked you or not. When you send a text message to her phone number using an Android phone, it may seem like your texts are going through as usual. It is possible that she is receiving them, but she chooses not to respond, or she's not receiving them at all because your phone number is blocked.
Whatever the odds are, your next recourse should be to call her number to determine if you would be able to contact it.
How to Know if She Blocked You on Instagram
It's pretty straightforward to find out if she blocked you on Instagram. Search for her account by typing her name or username on Instagram's search box. If you cannot find her or if her account is not showing in the search results, you are either blocked from accessing her account or her Instagram account is deactivated.
To confirm whether she has blocked you or her account is deactivated, you may ask a friend to search for her on Instagram. If her account shows up in your friend's Instagram search results but not in yours, she has indeed blocked you.
Additionally, you may check for her account on your list of followers and following. If she's no longer there and you cannot search for her, even though your friends can still view her account, she has blocked you.
Unfortunately, there is no way for you to know if she has blocked you or when she has decided to block you on her account. Instagram does not send notifications and alerts for blocked users, which means that you will not be informed whenever someone blocks you.
How to Know if She Blocked You on Facebook
Facebook would not notify you if a user blocked you. However, there are several ways to confirm it. You also have to be aware that being blocked is different from being "unfriended". If she just unfriended you, she will no longer be on your friends' list, but her account will still be visible if you'll search for her on the platform.
Moreover, you may not be able to see her posts on your feed or tag her on your posts, but it's still possible for you to send her a message through Facebook messenger.
Here are ways to confirm if she blocked you on her Facebook account.
She is no longer on your list of friends.
You are unable to search for her account in the Facebook search box.
Her posts no longer appear on your Facebook feed, and you're unable to tag her on your posts.
You are unable to send messages to her via Facebook Messenger.
You are unable to invite her to join certain Facebook groups and events.
Her account is still visible and searchable on other Facebook accounts, but not on yours.
How to Know If She Blocked You on Twitter
Like Facebook and Instagram, there is no way for you to get a list of individuals or accounts that blocked you on Twitter. However, there is a way for you to confirm your suspicion if you believe that someone is blocking you.
Here are the steps that you need to follow to find out if she blocked you on Twitter;
Open the Twitter app on your smartphone or web browser.
Type her username/account name on the search box.
If she blocked you, you wouldn't be able to view her tweets and profile. What you will see on the screen is a message that reads; "You're blocked. You can't see or follow @'s Tweets.
Evidently, being blocked on Twitter would make it impossible for you to follow her, view her content, and interact with her on the platform. You will know for certain that she blocked you if you cannot tag her on your tweets and media and if her posts are no longer visible on the search results, even when you use specific hashtags. Furthermore, if you cannot communicate with her via Twitter's Direct Messaging feature, it means that she has blocked your account.
How to Know If She Blocked You on Facebook Messenger
Facebook Messenger makes use of several icons to notify its users if their messages have been successfully delivered. For instance, seeing the person's profile picture below your message indicates that they have already opened or read your message.
What if you see a gray checkmark icon below your message? This icon could mean several things;
Your message is not delivered to its recipient.
She has not logged into her Facebook account.
She has blocked you from Messenger.
You cannot identify the reason entirely on the icon. However, check her Facebook page to figure out if she had prior interactions with other people or investigate further to find a more definitive answer. Here are some suggestions on how to find out if she blocked you on Facebook Messenger;
If she remains active on Facebook, but the status of your message remains undelivered, she may not be opening your message for some reason, or she has blocked you on her Messenger.
An updated version of Facebook Messenger can offer you a better insight. If you suspect that she blocked you, try to search for the previous interaction you shared on the platform. Your chat history and exchange of messages can help you confirm if she has blocked you. If you see "Facebook User" instead of her profile name, and you're unable to send her a message, it means that you are blocked.
If by any chance, you find your chat history and you attempt to send her a message, you would receive a notification stating that this person is not accepting messages or "The person isn't available". This confirms that you are blocked on her Messenger.
Try typing her name on your Messenger's search bar. If her name does not appear on the search results, it means that she blocked you.
If you are both a part of a group chat, open your group's chat settings to check its members. The person who blocked you would appear as a "Facebook User" with a blank profile. You can confirm your suspicion just by navigating through your group chat. You may also send a message to your group and then check for a read receipt from the "Facebook User." If it appears, the account is still active, but you were blocked by this person.
How to Know If She Blocked You on Skype
There is no foolproof way to figure out if a person blocked you on Skype unless you attempt to make a voice call or video call. Failure to connect with this person would confirm your suspicion. As an alternative, try sending her a message. If the message is undeliverable and it is continuously displayed as sending, and its status does not change, it is a sign that she has blocked you.
You may also try to search for the person you suspect has blocked you from your contacts list. If you see a question mark icon beside her name, this is an indication that she blocked you. In addition to that, you will no longer see her profile picture.
How to Know If She Blocked You on WhatsApp
There are no straightforward means of confirming if someone has blocked you on WhatsApp because you will not receive an alert. However, certain clues can validate your suspicion. Here are the most notable ones;
When you send a message to her via WhatsApp, your message would be displayed as sent but not delivered.
You cannot tell whether she is online or offline. There is nothing on the chat window.
The "last seen" indicator is not displayed, which makes it impossible for you to figure out whether her account is still active or not.
You are unable to see the changes in her profile photo.
Your calls cannot get through.
The takeaway, if a person blocks you, it's obvious that she is trying to avoid you. It is also likely that she wants to cut all ties with you and doesn't want to interact with you anymore. If you are dealing with this right now, try your best to accept it and move on. It doesn't make sense to pursue your investigation or to seek answers because it would only add weight to the situation and make you look desperate.
As much as it feels like rejection, look into the brighter side of things by accepting that not all people are meant to stay in our lives for good. Technology has made it possible for people to either connect with or disconnect from us. In effect, those who wish to stay will always be around even without reason, while those who decide to leave can easily find their way out; and there is nothing you can do about it.